Before setting up Helmm (we make standing desks like this) I ran a coworking space for nearly 10 years and I have mentored people from all walks of business on the one thing that plagues everyone at some point or another; procrastination.
For the self employed at least, procrastination can be a major major issue. It costs you valuable time (and in-turn, money) and can transform what you intended on being your 'most productive day ever' into a miserable, self loathing slug fest that has you retreating to a bottle of wine in front of the TV.
It's not our fault, digital distractions are a plenty on your computer and your phone and it is so easy to get sidetracked into a tangent that is far more enticing than your 'actual' work. Before you know it, it's 5 o'clock and after a promising start you've achieved a 10th of what you wanted to do.
We've tried the pomodoro technique, focusing music, white noise, absolute silence… When a true bout of the dreaded procrastination hits, it can be hard to break.
Enter, the standing desk.
When you stand and work your attitude to your work changes. When sitting in a chair the temptation to slouch and physically relax (especially after lunch) is all too easy to give in to. If you are physically slouching then your are more than likely mentally slouching. Your brain is half focussed on the task at hand and the door is wide open to let procrastination take hold.
If you get out of your chair and stand at a standing desk you will find that you feel more alert, more focused and in-turn you will be taking your work more seriously. This will help your achieve more in a shorter space of time. I know from my own, and other coworkers experiences that when using a standing desk I can write my blogs for the week in a matter of hours, where this kind of thing would take me days when solely using my nice Herman Miller chair.
When on the phone, standing can make you feel more confident which in some conversations can be key to success, taking control of a situation and being efficient with your time. We have put standing desks into recruitment agencies where the pressure to be on the phone as much as possible is high. Recruitment consultants tend to put off dialling a lot less if they are standing.
As some people have mentioned here, it can take a few weeks to get used to working at a standing desk and a disadvantage is that in these initial days, physical discomfort can put you off the whole experience. A sore lower back and sore feet are a common complaint. However, rather than using some fancy timer app to get you though to the next task, listen to your body and use these physical symptoms as markers to get tasks complete by. When you feel your feet start to tingle, know that you've got another 15mins before you need to take a walk or move to a seated position – so get your turbo mode on and smash it until your feet tell you to stop. Let your body tell you what works for you and don't try to be a stand up hero – you'll fall out of love with your standing desk very quickly.
Advantages – save time, make more money, go and do fun stuff.
Disadvantages – we can't stand all the time.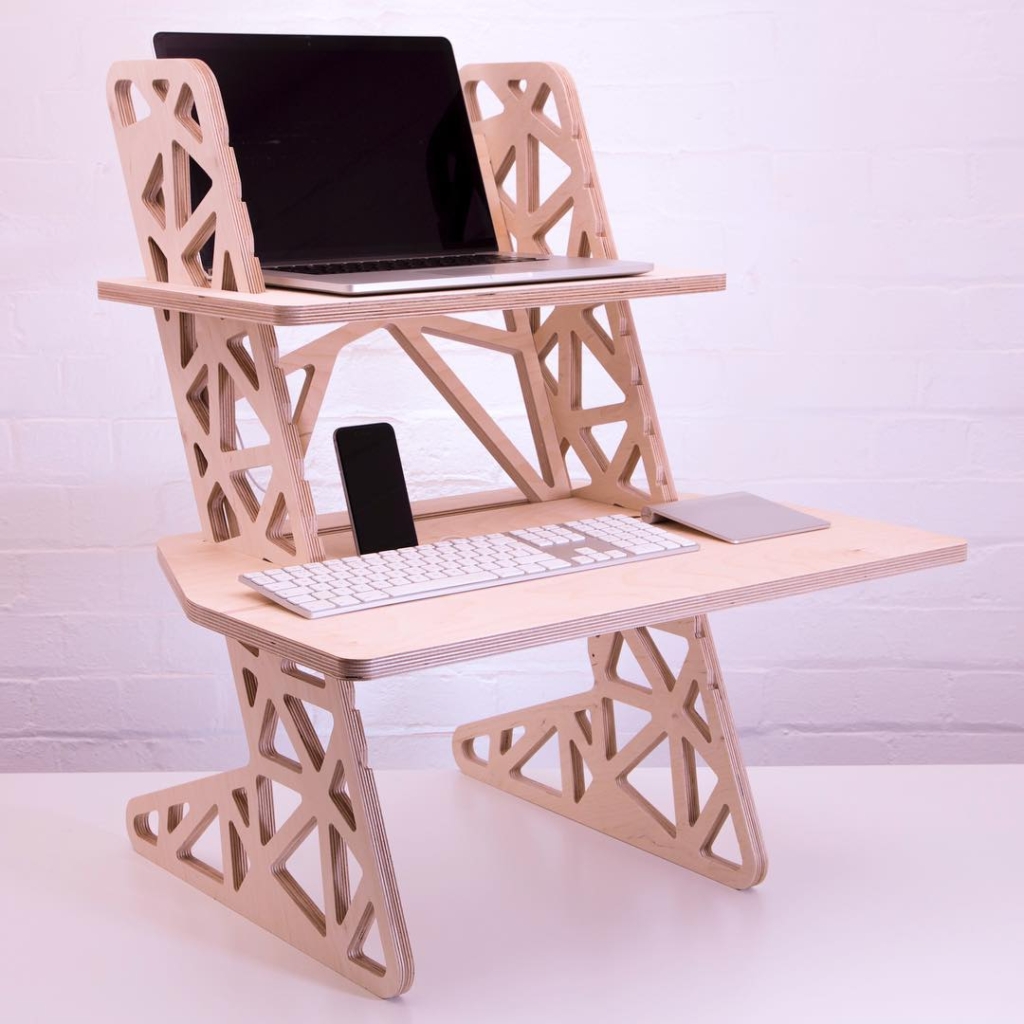 Pictured: Our adjustable height standing desk converter – the S-Desk Voro