So nice to open up this morning's post and flick through the latest edition of the A©ID magazine and see our products featured across two pages! Thank you @anti.copying.in.design for the double page spread. It looks great!
Read the full text of the article below:
Welcome to

ACID

Member Focus. Read the compelling story of how Helmm have put IP at the heart of their business strategy and how they have made full use of their

ACID

Membership Benefits to  support their business! 
My design history is ingrained in a life of non-wellbeing. I was a graphic designer and spent most of my working life in an office chair in front of a screen and complained regularly about back problems. When members of the co-working space that I also ran started showing an interest in standing desks back in 2016 I started to formulate product design ideas that would suit my fellow co-workers and get me out of my chair. Our first prototypes rolled off the line in April 2017.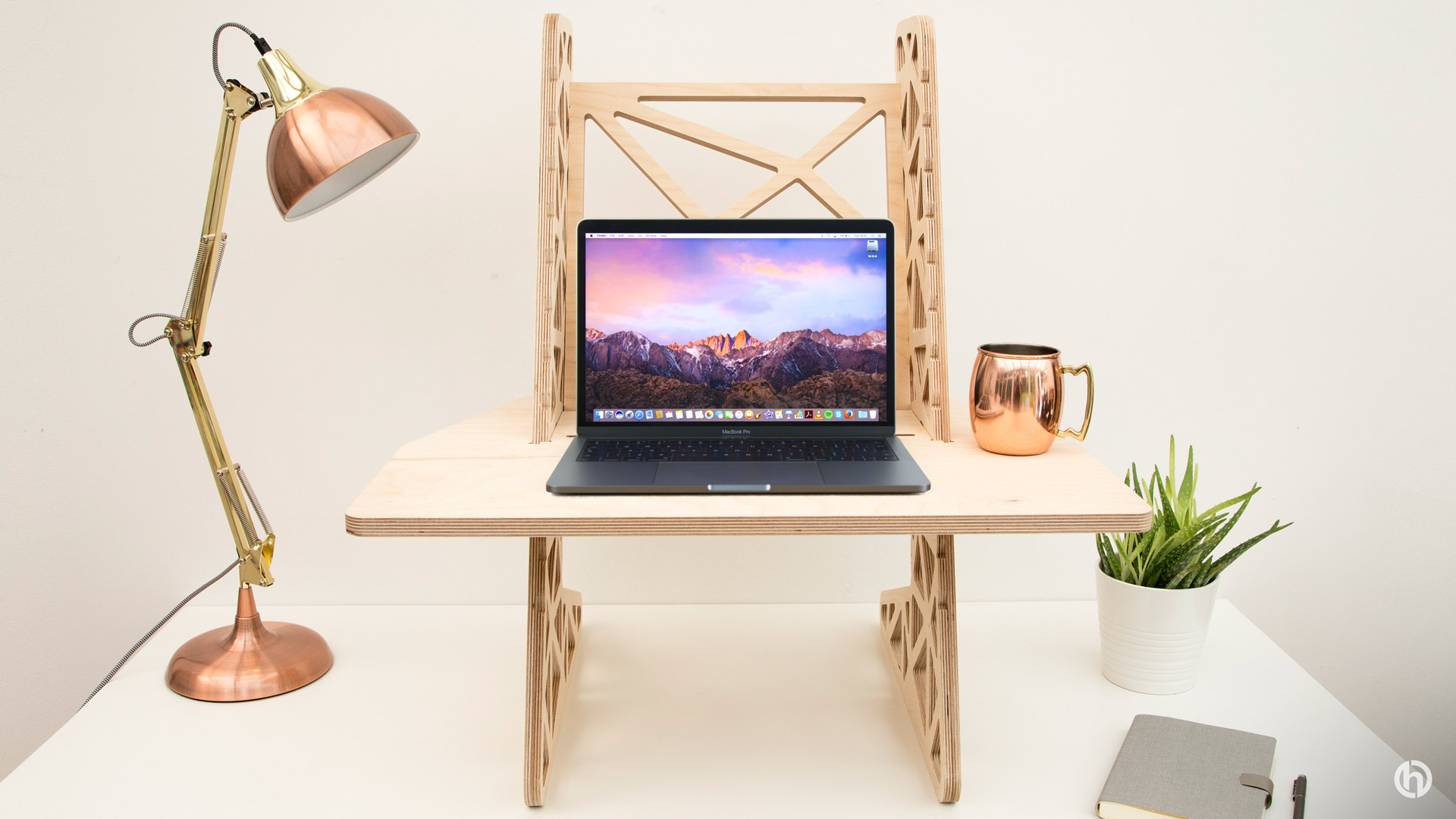 Did you have any knowledge of intellectual property at that time?
As an experienced designer I had lots of working knowledge of IP and copyright for my projects but was by no means an expert! I fortunately never have had to enforce my rights in my career to date but understood the importance of protecting them.
Which ACID Membership services have you used and how have you benefited from being a member?
So far I have used the ACID member logo on my marketing  materials to inform others that I am actively protecting my IP rights and I have registered some of our design drawings in the ACID IP Databank. I have also attended a recent ACID seminar which I found incredibly useful and had lots of burning questions answered.
Have you brought anything new to the marketplace recently that you would like to share?
The standing desk is not a new concept – Charles Dickens, Winston Churchill and even Stan Lee are well documented fans of working whilst standing. However, we like to think we have bought something new to the standing desk marketplace through our innovative designs that we manufacture ourselves in our UK workshop. Our production process is sustainable and the materials we use come from FSC certified sustainable sources. Our desks are supplied flat packed but require no tools or fastenings to assemble and feature a unique mechanism that allows them to be adjusted to suit anyone from 5′ 1″ to 6′ 4″ in height.
Everything we produce is intended to improve your workplace wellbeing in one form or another, from the ergonomic features of our desks and laptop stand through to the mental support offered by the artwork in our office art store.
We have lots more planned too!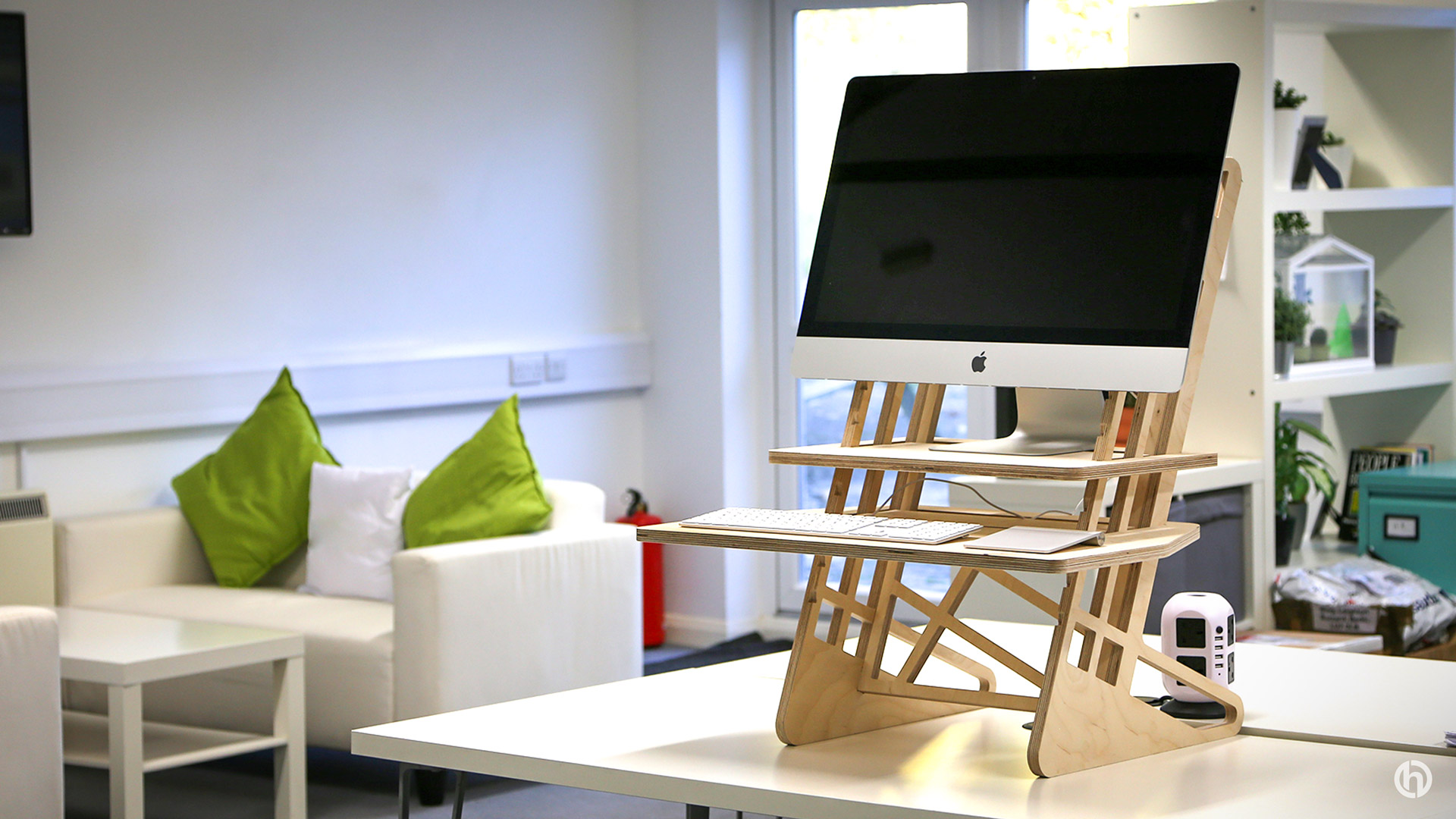 What is the best aspect of ACID Membership for your business? 
For me, the main attraction to ACID was being able to use the logo on my materials to let the world know I care about our IP rights. The IP Databank is an invaluable resource too, and much more cost effective than registering every one of our designs with the government IPO. I will also be attending more seminars as they are a great way of meeting other members and getting lots of questions answered!
What advice would you offer to a New Designer? 
Document your design process, and if you feel comfortable doing so, do it publicly on social media. If you ever have to contest your design rights then you have a public record that it was you who created your designs. It also makes great content for your channels!
ACID values the support of its members to enable it to campaign for design law reform. Do you have any messages for Government/Policy Makers on IP issues?
Please keep IP rights unified across Europe – the rights to own our own work should be everywhere, not just in the UK.