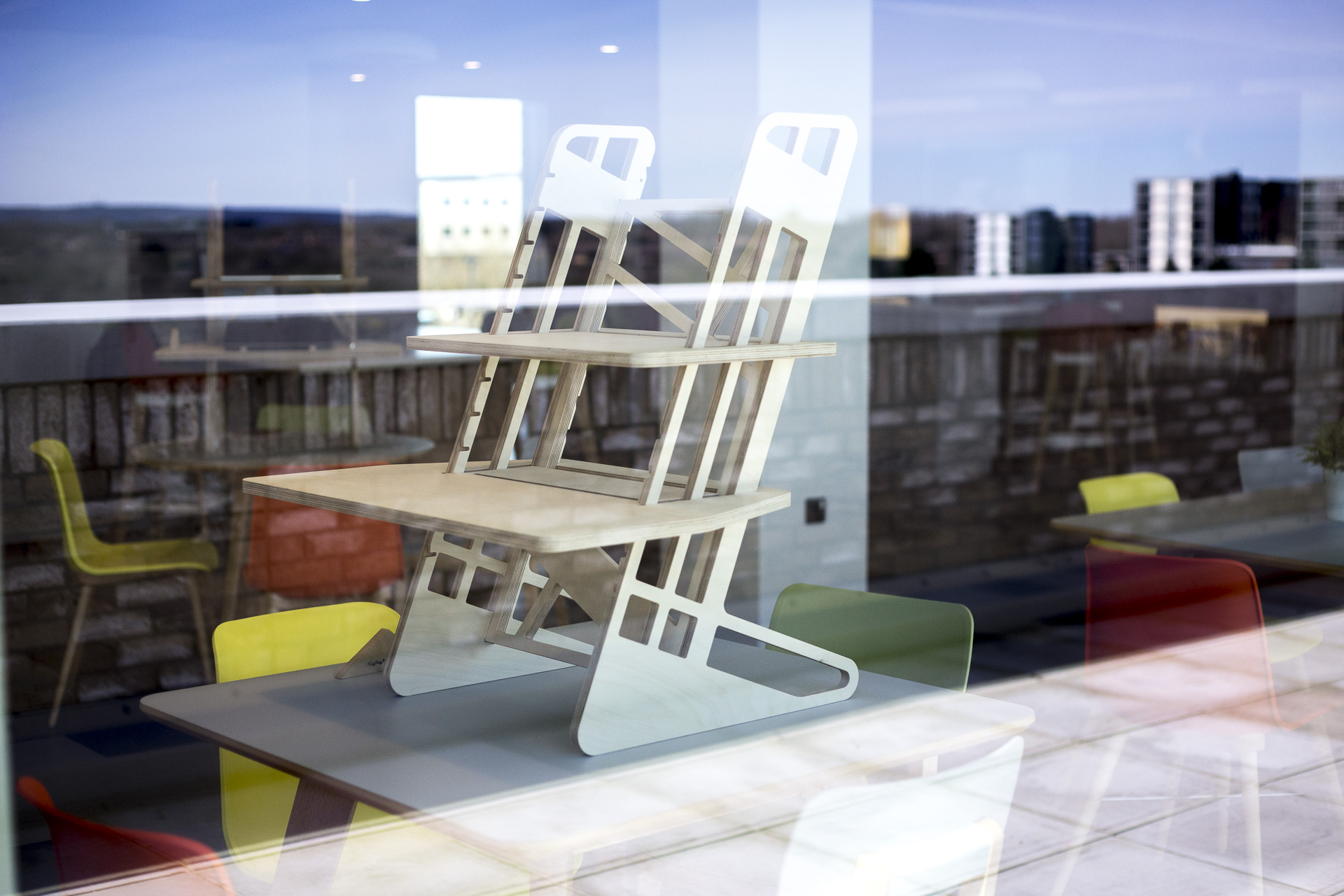 Last week we attended a MeetUp at the Grant Thornton collaborative workspace in Milton Keynes organised by the Workwell.
Once we got our head round the parking nightmare that is Central Milton Keynes, we unloaded a couple of our wooden standing desks and made our way to 4th Floor of Victoria House. We were welcomed by really nice feeling space, made all the more wonderful by the glorious weather which you could make the most of from their awesome terrace.
Grant Thornton are a essentially a financial services business working with clients of all sizes, and they have several collaborative workspace locations around the UK which are free for people use (Oxford, London, Chelmsford, St Albans, Southampton & Milton Keynes). Free wifi, free coffee and a very nicely kitted out space. What's the catch?
Actually, no catch. The spaces are designed to help local businesses connect, collaborate and thrive. Good local business, is good for Grant Thornton. The only thing they say, is that they have a 'no camping rule'. The space is for occasional use and you would be welcome a couple of times a week, but you cannot base yourself there. Fair enough!
I roughly counted enough space for at least 40 people to work comfortably, and there is also selection of well appointed meeting rooms that you can book out.
I walked in and was greeted by the workspace host, Philippa who runs the space and makes sure everyone is made to feel welcome and knows where everything is. If you ever fancy working here, drop her a line at: philippa.price@uk.gt.com
After setting a couple of desks up for our MeetUp group to try out, I grabbed a very nice cup of coffee and got to work myself at an S-Desk Voro standing desk converter, which sat very nicely upon Grant Thornton's tables. I got a surprising amount of work done too, only stopping to chat to people about our desks and occasionally popping out onto the lovely terrace for a spot of fresh air.
I think our standing desk converters were very at home in the GT workspace and got to take a few photographs while we were there. Helmm shall be visiting Grant Thornton Milton Keynes again with S-Desk 22 and the S-Desk Voro very soon.